DISCLOSURE: ThriftyLittleThings.com is a personal blog written and edited by Wendy Kohn. The majority of what I post is based on my own ideas, thoughts and projects, for the sole purpose of sharing my passion. However, there are times that I do accept various forms of compensations such as cash advertising, sponsorship, or paid topic insertions and/or products, coupons and other forms of compensation and incentives from companies and organizations that I feel compliment the blog, and offer value to my readers. Compensation will never influence the content or posts made in this blog. All advertising is in the form of advertisements generated by a third party ad network. As the owner of this blog, I am sometimes compensated to provide opinion on products, services, websites and various other topics. Even though I may receive compensation for posts or advertisements, I always give my honest opinions, findings, beliefs, or experiences on those topics or products. The views and opinions expressed on this blog are purely my own and will NEVER be influenced by any form of compensation.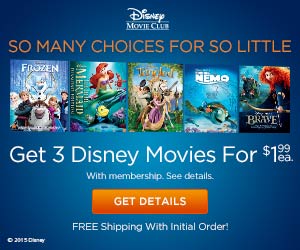 Back when my kids were little, finding a
Disney Movies Deal
was much easier and they came around more often. We still have our entire collection and now my grandkids watch them! These days, the savings are far and few between, so I was excited to come across this deal to get
3 for just $1.99
!
Yes, it's a membership type deal
like the book of the month clubs or DVD's, etc
.
These are a great way to score some pricey items for a steal.
You can
cancel at any time
!
To score this Disney Movies Deal, head over
HERE
and pick your
3 for just $1.99
!
P.S.
Don't miss another Thrifty Little Thing!
Get deals, coupons, furniture makeover and thrifty living tips directly to your Inbox
by subscribing FREE
HERE